Home>>Products Center>>CPVC pipes
> Product features:
The products is a kind of special PVC pipes modification, and it is far superior to traditional asbestos cable pipe and general PVC pipes.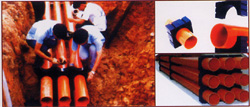 CPVC pipes for high Voltage cable protection is mainly used in laying electric wires or cable for the function of direction and protection, in relation to traditional asbestos cable pipe, it has got the quality of fine flexibility, high temperature resistance, slow in fracture and aging, long service life, non radio contamination, etc. You don't need to pour the concrete and protection course and you will have the construction period shortened because of its low deadweight, simple construction and low price, Should the cable be over-loaded and short circuit in the pipes , the high-temperatures developed didn't make difference to the products owing to its vicat softening point is no lower than 93° C.The technical criteria of products can be ranked beside the best of their kind in the world, and it is widely used in domestic power system.
> Product description:
1. Standards
QB/T2479:Buried Chlorinated polyvinyl chloride(PVC-C)pipes for high-tension power cable
Q/HLT09-2003:subsurface CPVC cable tube for street lamp
Q/HLT10-2003:backup bracket for CPVC pipes
Q/HLT11-2003:CPVC cable holder
GB8624-1997:stage division of constructional materials' combustion property.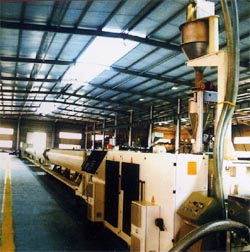 2. Pipe Diameter
The diameter of pipes, fittings and cable holders is all the metric system.
3. The fixed length of pipes is 4M or 6M
The fixed length includes the length of faucet, different length can be made for our customers, given the necessary equipment.
4. Color
Saffron
5. The shipping mark and identification
The

brand , specification ,design code and number is printed on each pipe.
6. Package
All the fittings are packed in cartons
7. storage
(1)Never pile up the pipes on the ground without anything at the base
(2)Located on the outside, tube end expansion should be laid across the one end without expansion
(3) Try to avoid striking together and squeezing, tube end expansion in particular when stack up them
(4) The pipes should not be put in the open air for ages, the fittings should be stored indoors and kept from heat source
(5) Rubber packing ring and mastic must be stored indoors, keep shadowy and dry, open flames prohibited
Compared with SVP pipes made in Japan
| | | |
| --- | --- | --- |
| Test Item | Japanese technical criteria | Technical criteria of Liutong pipe |
| Crush | No crack when it is pressed to 1/2 of original outside diameters | No crack when it is pressed to 1/2 of original outside diameters |
| Coefficient of Linear Expansion I/° C | 7*10-5 | 5.89*10-5 |
| Vicat Softening Temperature ° C | 93 | 95 |
| Longitudinal Recovery Ratio % | =±1 | 0.3 |
| Flame Retardant Property | No glowing | No glowing |
| High tension Test | Deflection <2.5% | Deflection <2.5% |
| Falling Weight Impact (0° C,1kg,2M) | | No evidence of buckling after 10 impacts |
| Round Heating Press Test KN | | 1.32 |
Physical and Chemical Properties of subsurface CPVC pipes for high Voltage cable protection
Item

Units

Indicator

Density

kg/m2

1350-1500

GB/T1033A?

Vicat Softening Point

° C

=93

GB/T8802

=0.70

Round Heating Press Test

KN

=1.26

GB/T2479

Frictional Coefficient

=0.35

GB/T3960

Volume Resistivity

cm

=1*1013

GB/T1410

Falling Weight Impact Test

9 in 10

GB/T6112

Fire Protection Capability

FV-0

GB/T4609

Oxygen Index

>32

GB/T2406

Crush Test

No crack when it is pressed to 1/2 of original outside diameters

Corrosion Stability(Immersion in Methylene Chloride Test 15° C15min)

no change in the surface

GB/T13526
Physical Properties of Cable Strap
| | |
| --- | --- |
| Item | Indicator |
| OI | =32 |
| Drop Test | No cracks |
| Hot Oven Test | No bubbles, cracks and dehiscent phenomena |
| Falling Weight Impact Test ° C TIR | =5% |
| Vicat Softening Temperature ° C | =78 |
> Construction Specification:
CPVC pipes for high Voltage cable protection
(1) CPVC pipes, 4 meters/piece in full-length, linked by plug gum ring in type or fitting, are laid directly in principle
(2) The pipe should be laid underground (below 1 meter)
(3) The portage of pipes
A. Try to avoid bales off when you are conveying the pipes to a truck
B. In order to prevent damages of butt end, the cast of pipes is strictly prohibited when unload from truck
(4) The keeping of pipes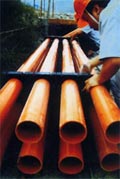 A. the pipes should be move to a flatter place, otherwise they may be polluted by turbid water
B It would be fine that the pipes are piled up (looks like square) or fixed one by one for avoiding bales off
(5) Excavating Width
According to the minimum interval of pipes' border, foundation construction and backfill operation. In the normal course of events, the excavating width of groove is less than paved with of groove asbestos cement pipes 0.8-0.85M, for it can cut down excavation workload.
(6) Foundation Construction
Considering pipes will be under great pressure of soil and wheel load, we'd better take cognizance of a good foundation. If the foundations are insecure, it will cause the pipes to curve due to partial heavier load
A. In a general way, dig up trenches, make sure the pipes should be level
B. The pipes will sink in improper balance if it happened to be buried in porous soil,. We suggest that 100mm fine sand should be rammed down under pipes' fixer
C. If the soil condition isn't very well ,we should improve on it first when falling across closed conduit or brooklet: Dredge up the silt, and then compact the soil with stones, ram earth down in tiers afterwards, we suggest that C 20 brand ferroconcrete baseboards should be laid under duct baseboards
(7) The collocation of pipes' fixer
A pipe with normative fixed length is collocated by three fixers, the separation distance between two fixers is 1.5 meters, and the one between fixer and tie-in is 0.5 meter
(8) The connection of pipes
A. Gum ring plug in type tie-in is adopted in the connection of pipes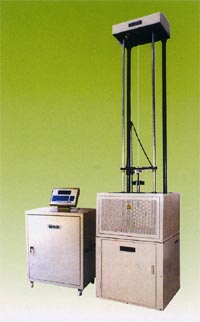 B. In order to it can be inserted expediently, please clean dirt and other adhesive material on the inside of teething ring and outside of faucet by reason of leak proof
C. For the sake of inserting one pipe into another easily, we can smear the inside of rubber band and outside of socket with some suds or lube
D. A line which represents insertion length should be marked on the surface of pipe. You need to verify if the inserted mark is in the right place accurately after the pipe was inserted
E. The connection by intubations machine: Connected by anchor ear and intubations machine or a rope is safer and more reliable. The connection method is:Firstly, move the socket to sleeve port, then equip it with anchor ear or a rope, at last drive the pipe after fit intubations machine on
F. The connection by tapping method
tapping method is also can be used in accordance with operations. This method is like this: put the end of socket to sleeve port first, make sure it is in a straight line with centre of a center line of pipe, then put a larger sized thick board on the nozzle, hit the middle part of board with a hammer, punch the pipe down to the insert mark
(9)A specialized flared bell pipe is adapted to tie-in section, it makes the cable to pass smoothly, the overhanging part should be controlled less than 30cm. In order to cope with the possible sinking of foundation soil
(10) back fill
It is prerequisite that you should backfill the pipes with soft soil. It may cause setting of ground and curvature of pipes if the soil is not tight, so special attention should be pay to when constructing it.
A. The backfill should be done by manpower
B. Please ram earth down layer by layer
C. Please tamp it by wooden tamping rod
D. The back fill should rise above the ground a little for the sake of possible sinking of road
(11) While in the process of laying tube and pipe, If there are anything special conditions, for example, keep away from other pipeline engineering and underground structure, etc.. This pipe allows gyration less than 2°(14cm per 4m).The permissible maximum dogleg is 4°,considering the sinkage of the pipes after laid, construct it according to half of maximum dogleg, namely 2°
(12) Maintenance
After completion of laying pipes, if other pipeline department need lay other pipes under it, We may take temporary protective measures when a hollow width is more than 2 meters
seal of high tension cable protective tube

Model

nominal rating outside dia

A(mm)

B(mm)

C(mm)

Ø110

110

120

108

130

Ø139

139

149

137

159

Ø160

160

170

158

180

Ø180

180

190

178

200

200

200

210

198

220

tube inserted tie-in

Model

nominal rating outside dia. (mm)

A(mm)

L(mm)

Ø110

110

200

150

Ø139

139

210

160

Ø160

160

240

180

Ø180

180

250

180

200

200

260

180

Straight Socket of street lamp cable tube

Model

specification dia.(mm)

L(mm)

Z(mm)

Ø50

50

65

3

+2
-1

Ø63

63

78

3

+2
-1

Ø75

75

91

4

+2
-1

Ø110

110

128

6

+3
-1

Ø160

160

180

8

+4
-1

Bracket of high tension cable protective tube

Model

dia.

Maximum deviation (mm)

L1(mm)

Maximum deviation (mm)

L2(mm)

Maximum deviation (mm)

Ø110

112

+2.0

179

±3.0

65

±3.0

Ø139

141

+2.0

220

±3.0

65

±3.0

Ø160

163

2.0

237

±3.0

75

±3.0

Ø180

183

+2.0

237

±3.0

75

±3.0

200

204

+2.0

250

±3.0

85

±3.5
high tension cable protective tube

Model

nominal rating outside dia. (mm)

Maximum deviation of average outside dia. (mm)

wall thickness

out of roundness

L(mm)

Size(mm)

Maximum deviation (mm)

Ø110*3.4

110

+0.50
-0.20

3.4

+0.70
-0.20

2.5

75

Ø110*5.0

5.0

Ø139*5.0

139

+0.80
-0.40

5.0

+0.70
-0.20

2.8

80

Ø160*4.0

160

+0.80
-0.40

4.0

+0.70
-0.20

3.3

86

Ø160*5.0

160

+0.80
-0.40

5.0

+0.70
-0.20

3.3

86

Ø160*6.0

160

+0.80
-0.40

6.0

+0.70
-0.30

3.3

86

Ø180*6.0

180

+1.0
-0.5

6.0

+0.80
-0.20

3.3

86

Ø180*7.0

180

+1.0
-0.5

7.0

+0.850
-0.30


3.3

86

Ø180*8.5

180

+1.0
-0.5

8.5

+1.0
-0.30

4.0

90

Ø200*8.5

200

+1.0
-0.5

8.5

+1.0
-0.30

4.5

95
Annotation:

1.Ø110 is cemented by socket joint or connected by seal should be laid down in the contract

2. The contract should also give an explanation whether other specifications is cemented by socket joint or not

3. The length of a tube includes tube end expansion

4. The length of oriented part can be confirmed by clients' need

5. Other specifications can be made by users requirement.

subsurface CPVC pipes for street lamp

Model

nominal rating outside dia.(mm)

Maximum deviation of average outside dia. (mm)

wall thickness

out of roundness

L(mm)

Size(mm)

Maximum deviation (mm)

Ø50*2.0

50

+0.30
-0.20

2.0

+0.50
-0.20

2.0

25

Ø63*2.7

63

+0.40
-0.20

2.7

+0.50
-0.30

2.0

30

Ø75*3.0

75

+0.40
-0.20

3.0

+0.60
-0.20

2.0

40

Ø110*3.4

110

+0.50
-0.20

3.4

+0.70
-0.20

2.5

48

Ø110*5.0

110

+0.50
-0.20

5.0

+0.70
-0.20

2.5

48

Ø160*6.0

160

0.80
-0.40

6.0

+0.70
-0.20

2.5

58

Annotation:

1.It should be stipulated in the contract if the cable sleeve is connected by fittings

2.It should be stipulated in the contract if the Ø100 and Ø160 sleeve is connected by seal

3.The length of a tube includes tube end expansion